Have you heard of the brokerage API "Tradier"? It's a powerful software/toolset that is literally reshaping the investment brokerage field. Tradier is making it possible for option traders to use powerful, specialized option software, such as Options Cafe, and to integrate it directly into trading. Beyond options, Tradier is revolutionizing trading with other assets, such as stocks.

Here's how the old way worked: You picked a broker, you used that broker, and you used their tools. Sometimes, you could buy upgraded premium services. Other times, you could buy external software/tools and use it separately from your broker. This software, however, could not be integrated with your broker or your trading. As a result, it was difficult to access a complete toolset, and to have up-to-date and in-sync data. This was true for options investors, stock traders, and everyone else.
Tradier and the Broker API Revolution
For options investors, this was a big hurdle because many brokerages simply don't offer good options trading tools. Specialized software and tools can go a long way towards increasing your profit margin and increasing the likelihood of producing a profit. However, options traders now have more options (pun intended) when it comes to software and tools, and companies like Tradier are a big reason why. Now, you can pick your broker and your tools separately.
So what is Tradier? The company has been called a "brokerage API on steroids" by Investopedia, and that's a pretty accurate description. First, API stands for Application Program Interface. An API is a set of tools, routines, and protocols for building software. Basically, an API provides the "building blocks" needed to build software. In layman's terms, an API allows users to connect directly with a provider's data and software, and to even use it to build their own unique software. API's usually work through the cloud, meaning you can access the data and software online, and in some cases can even use their servers to carry out various processes.

So let's circle back to Tradier, a brokerage API. This means you can use Tradier's data and software to build brokerage and trading software. Tradier does this by working with data directly from markets. While Option Cafe focuses on options, Tradier aggregates data regarding a wide range of investment vehicles, including equities, ETFs, mutual funds, stocks, and of course, options.
What Does a Broker API Actually Do?
Importantly, Tradier enables trading. A software developer can build trading functionality into their software or even website. In some cases, blogs and other information websites have been using Tradier to offer trading services directly to their audience. Essentially, Tradier creates a "white box" brokerage service, through which software developers can use the Tradier API to create their own brokerage services. Instead of having to reinvent the wheel and reinvent brokerage capacities, software developers can use the tools provided by Tradier.
Tradier is FINRA licensed and working with more than 30 clients. This means the company is legitimate and regulated. When Options Cafe launches later this year, we'll be another one of Tradier's clients.
Tradier charges fees, of course. They have to pay their staff, and maintain and refine their software. However, the commissions are quite affordable. Since Tradier can conduct trades, it can act as an investment broker, enabling options investors and others to trade. However, their API-driven model allows them to dramatically reduce costs. That means they can pass on savings directly to their customers.
Options With the Tradier Brokerage API
For options, Tradier charges only 35 cents per contract (plus a $3.95 ticket charge). Compare that to eTrade, which charges a 75 cent fee (with a bigger ticket charge). This means that Tradier charges less than half of what eTrade does.
Crazy right? Who doesn't want to save on trades? One of the biggest challenges with trading options is keeping fees and commissions low. This is especially true for people who want to invest smaller amounts, or execute a high number of options trades. Some platforms, like eTrade, offer discounts for active options traders, but these commissions rarely approach Tradier's flat rate.
However, there are always tradeoffs. With Tradier by itself, you won't be able to access as much expert advice, advanced trading tools, data, and all the rest. Tradier does offer some tools -- in fact their web application is pretty delightful to use for basic interactions.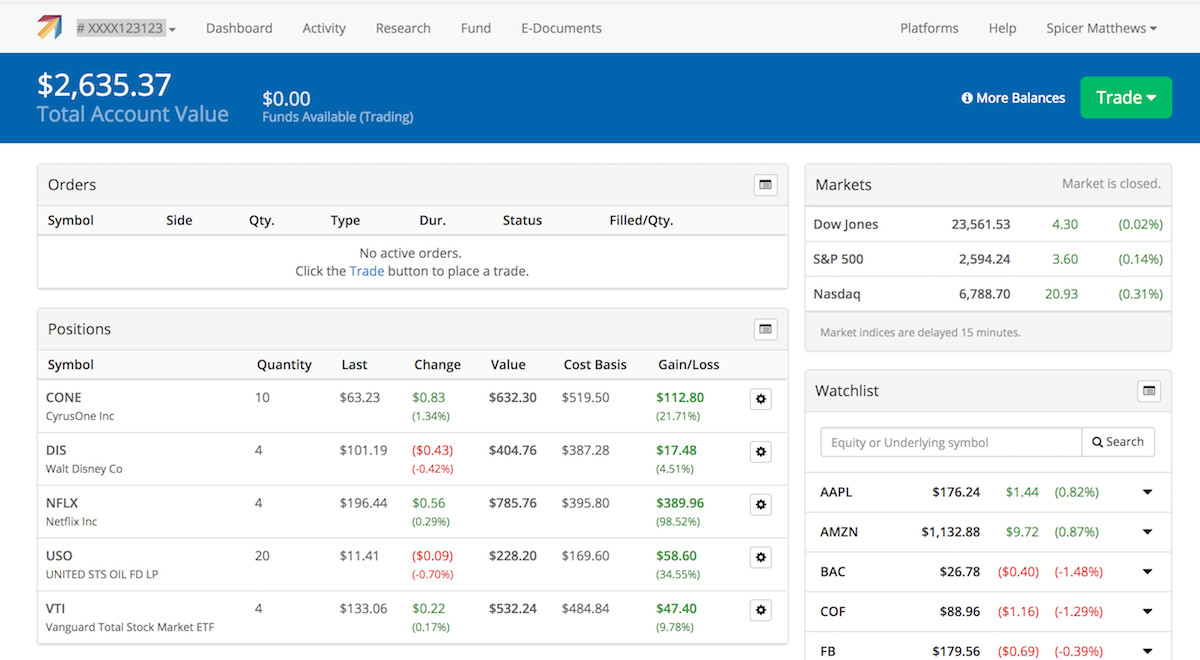 This is where Options Cafe comes in. Our platform will be able to plug directly into Tradier, meaning you can use their brokerage services to conduct trades while using Options Cafe to engage. Options Cafe will be able to provide you with tons of advances options trading tools. We built Options Cafe precisely because we realized there was a gap in options software services. Perhaps more so than any other type of investment, options trading can benefit tremendously from powerful, data-informed tools. And that's what Options Cafe provides.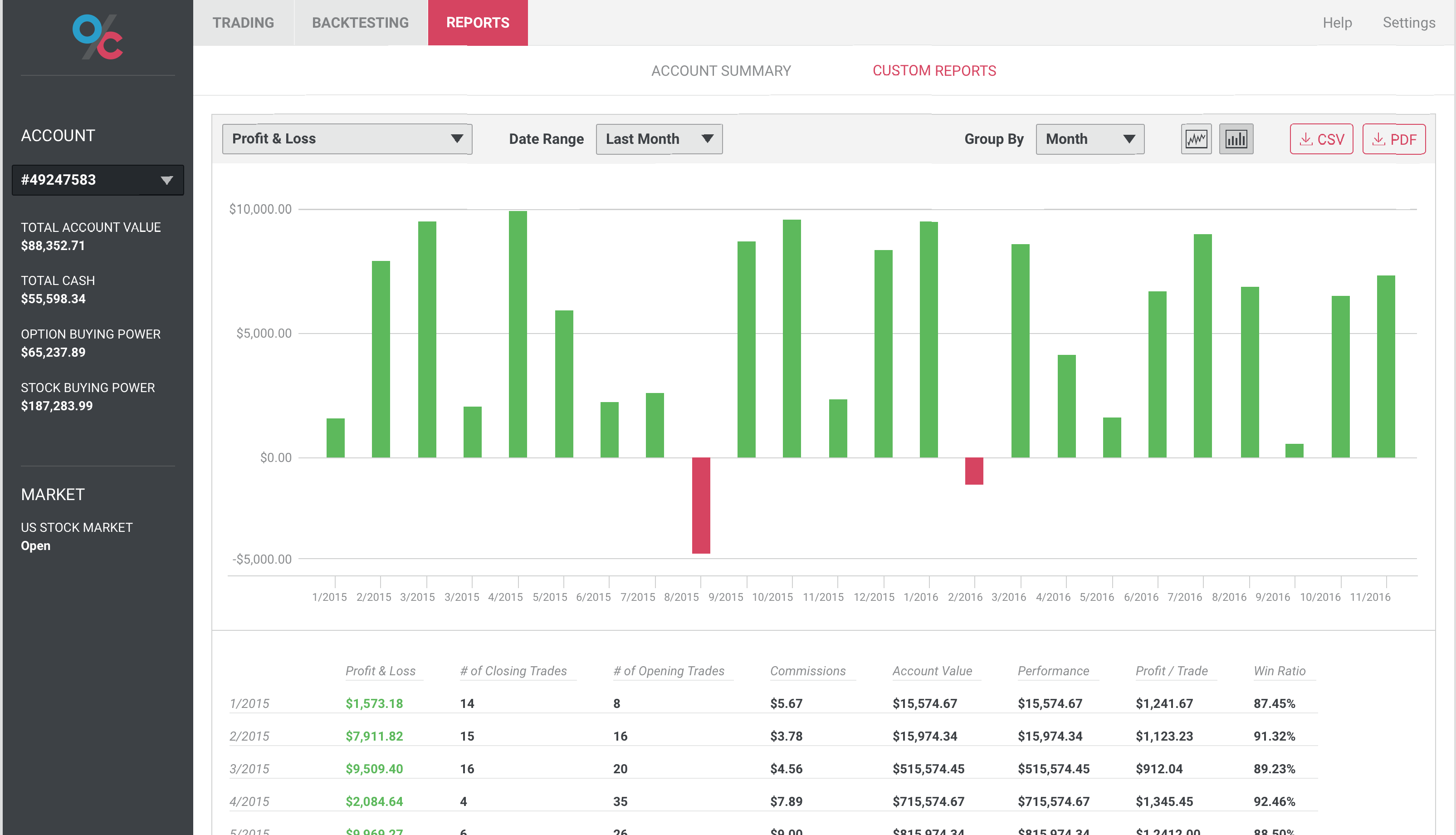 Options Cafe Plus Tradier
The end result of Tradier + Options Cafe is a powerful option trading platform that costs less than most other brokers. By using the Tradier API, we can keep costs manageable. By building software that has been designed by options traders and for options traders, we can deliver the most powerful options software possible. It's a win-win.
With Options Cafe, we make it easy to implement advanced options trades, such as an Iron Condor. Combined with Tradier, it's not only easy but affordable to set up such trades. In the past, setting up advanced options trading strategies was often a headache in and of itself. With multi-leg option strategies, you also have to execute several trades at once. This meant that fees quickly ate into your profit potential. Tradier's low fees, however, will help alleviate that pain point.
Enjoyed this post? Here are some must reads.
Related Topics: brokers, commissions